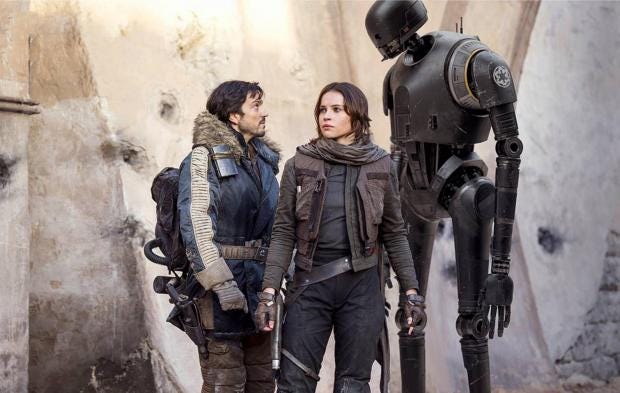 The outlet spoke to some of the key players in the creation of the film, and they confirmed that some of the heroes of the Rebellion were supposed to survive the final onslaught at the Battle of Scarif.
Screenwriter Gary Whitta tells EW.com: 'We were afraid that Disney might not let us do it, that Disney might think it's too dark for a Star Wars movie or for their brand.' So a happier ending was planned. It wasn't that way in my original script, but again, we never felt that we would get away with it. K-2 always died, but Jyn survived in the very first version of the movie that we developed, and then it was Gareth who kept pushing for it, saying, "I feel like they need to die". When they finally made a decision to let the heroes succeed in the mission but fail to return, they had to get the okay from Disney/Lucasfilm brass, says Whitta: "We told them, we feel they all need to die, and [Lucasfilm president Kathleen Kennedy] and everyone else said to go for it".
But they didn't think Disney would go for it. "We got the ending that we wanted", Whitta added.
Han Solo, Lando Calrissian and Chewbacca are three of the most recognizable individuals within the Star Wars universe itself, and the wider media - and the story of the exploits of their younger years is one that fans have been clamouring to see on the big screen for decades.
After a few attempts at writing this ending, though, the team behind Rogue One felt it would be better with the original sacrificial ending.
Auburn University names new president
He received degrees in plant science and plant pathology from Penn State University, the University of DE and the University of IL .
But the ending felt too flawless, too happy, to convey the struggles the Rebellion went through the defeat the Empire. Finally, Vader was successful in breaching their shields and destroying the craft.
'The transfer of the plans happened later.
Be sure to let us know your thoughts on the alternate ending in the comments! Imagining this careful getaway, with the two heroes floating away with the rest of the garbage, one can't help but think of Han and Leia's escape in the Falcon from The Empire Strikes Back, where they land the ship on a Star Destroyer to avoid scanner detection.
"They got away in an escape pod just in time", Whitta says. The pod looked like just another piece of debris. They transferred the data to Leia's ship just as their ship was destroyed. A Cassian Andor-type character still commanded the team alongside Erso, but he had a different name.